Visiting Stonehenge: Everything You Need to Plan Your Visit
Contents
All You Need to Know About Visiting Stonehenge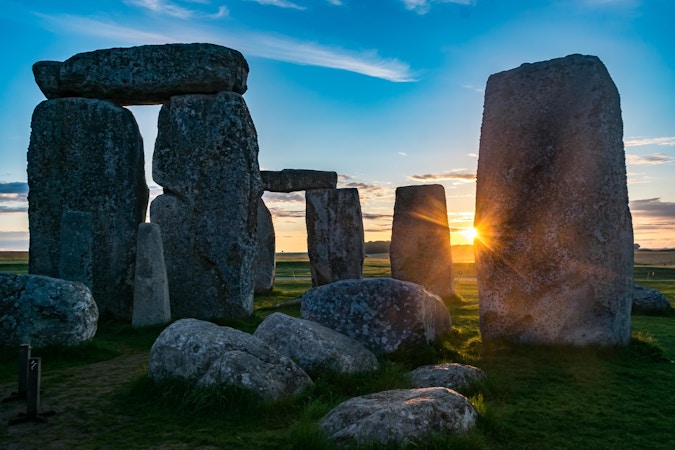 What are the opening times?
Stonehenge is open throughout the week, with visiting hours between 9:30 AM - 5 PM. When visiting Stonehenge, please note that the last entry is at 2:30 PM.
When booking your Stonehenge tickets, you will be asked to pick a date and time slot. Please report to the Visitor's Centre with your ticket confirmation at least ten minutes before your time slot.
What's the best time to visit Stonehenge?
The best time to be visiting Stonehenge is between March to June and September to November. The weather is pleasant, albeit a little chilly if you're visiting during winter. Stonehenge is linked to the annual solar cycle. In June, thousands of people gather at Stonehenge during the Summer Solstice to get the perfect view of the sun as it rises from between the stones. Similarly, people also visit it during the Winter Solstice to get a view of the sunset. However, as it tends to be cold during the Winter Solstice, people prefer to witness the Summer Solstice at Stonehenge.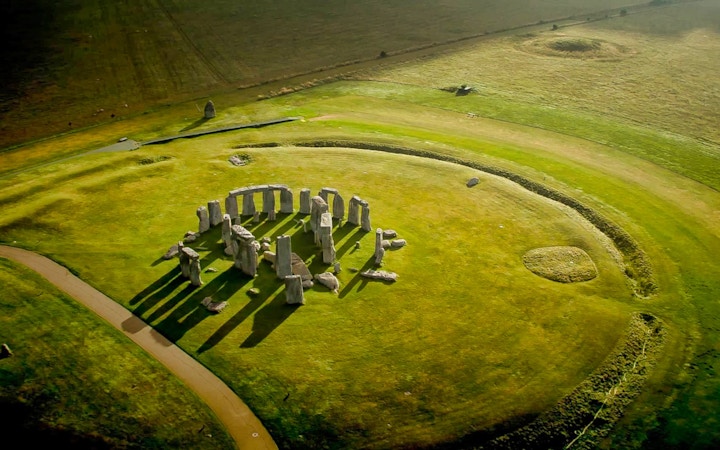 How far is Stonehenge from London?
Stonehenge is close to 140 kilometers from central London.
How can I get from London to Stonehenge via train?
You will need to take a train from London to Salisbury, which is the closest station to Stonehenge. From Salisbury Station, you can board a Stonehenge tour bus, which will take you directly to the Stonehenge Visitor's Centre. This route will take about 1.5 hours.
How can I get from London to Stonehenge via coach?
Similar to the train journey, you will need to take a bus to Salisbury, and then take the Stonehenge tour bus from the station. The journey will take you about 3 hours.
What route should I take if I am driving to take my Stonehenge tour from London?
Driving is a direct way of getting to Stonehenge, where you can directly drive to the venue. This route will take you a little over 2 hours. To get to Salisbury, use the M4, then go onto the M3 and take exit 8 onto the A303. On the route, follow signs from Amesbury, which will take you on the A360 and then to Stonehenge.
If I am taking a guided tour, will my transportation be included?
If you are taking a guided tour, your transportation will most likely be arranged by the tour company, ensuring a smooth and safe journey for you.
Stonehenge Facilities
Food & Drinks
Luggage Storage
For the Family
Stay
The Stonehenge Cafe is currently only allowing takeaways. Please note that you need to wear a mask when entering the cafe. You can get traditional pasties, sausage rolls, soup, hotpots, and vegetarian food. You must try the famous Rock cake, which is made in the cafe.
You can enjoy these treats in the outdoor seating area or even have a picnic near the Stone Circle with a view of the monument. 
As picnics are allowed, you can also feel free to bring your own food along to sit out and enjoy. Please ensure all waste is disposed of appropriately.
The premises do not have a cloakroom or a luggage storage facility. It is recommended that you only carry essentials. However, should you have luggage that needs to be stored somewhere, you can leave it at The Railway Tavern.
The Railway Tavern is 100 meters down the road from Salisbury Station. They charge £3 per piece of luggage, which you can pick up on your way back from the monument.
If you are traveling with family, it's best to be aware of all facilities available. Toilets are operating as usual, as are baby changing stations. Hand sanitizing stations are throughout the venue to ensure the safety of you and your family. The shuttle bus is prioritized for those who need it, such as the elderly and disabled people.
There are a lot of accommodation options should you choose to stay somewhere close by when visiting Stonehenge. The closest town in Salisbury, where you can stay in a bed & breakfast or choose from townhouses. If you don't mind traveling a bit further, you can also head to one of the many scenic villages in the Cotswolds, where you can stay in a cottage. There are many options across Wiltshire based on your budget and preferences.
Things To Do Near Stonehenge
Here are some things to do around Stonehenge and Salisbury:
Salisbury Cathedral
Over 750 years old, this Cathedral has well-preserved original copies of the Magna Carta. It also has the tallest church spire in the United Kingdom, at 404 feet, along with one of the oldest working clocks in the world.
Avebury
Co-listed with Stonehenge as a UNESCO World Heritage Site, Avebury features naturally-shaped stones (megaliths) in a ring. Within the ring are two distinct henges with their own inner rings of stones.
Salisbury Museum
This museum has a stunning collection related to Stonehenge and other artifacts and architectural marvels found locally.
Durrington Walls
The largest Neolithic henge in the country, Durrington Walls is about 3 kilometers away from Stonehenge. This early settlement is considered to be related to the Stonehenge complex.
Book Your Stonehenge Tickets & Tours
All Questions Answered About Stonehenge Tour From London
How long does a Stonehenge tour from London take?
If the tour involves just Stonehenge, then you can expect your Stonehenge tour from London to take about six hours.
How much time will I get to spend at Stonehenge?
You are free to spend as much time as you'd like at Stonehenge, but note that the venue shuts at 5 PM.
Is Salisbury Cathedral included in a Stonehenge tour from London?
It depends on the tour chosen. Some tours take you to Salisbury, while others directly head to Stonehenge.
Do I have to book the tour online?
It is generally recommended that you book your tour online to guarantee your visit at your chosen time slot. While walk-in tickets are available, there is no guarantee that tickets may be available whenever you go.
What other attractions can I cover on my Stonehenge tour from London?
Some nearby attractions you can cover on your trip to Stonehenge include Windsor, Oxford, Cambridge, and Bath. Here are some more tour options from London.
Is Stonehenge dog-friendly?
Assistance dogs are allowed throughout Stonehenge, even in the Stone Circle. As for dogs on leashes, they are not allowed in the Stone Circle & Monument Field, visitor buses, Exhibition, Stonehenge Café, and the gift shop. They are only allowed in the Visitor Centre, where water bowls are available. Please ensure you clean up after your pet.